Mistakes Women Make That Cause Men to Leave Them
Are you unknowingly making any of these mistakes?
Nowadays, there seems to be a widespread epidemic of men leaving women with whom they used to have a good relationship. The reason men leave is rarely what the woman thinks it is. Find out why he's just not that into you anymore – and what you may have done (or are doing) to make him lose interest.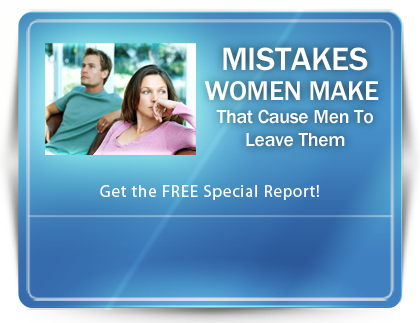 In addition, as an added bonus, we'll also send you our weekly RelationshipHeadquarters Insights about men where you'll learn such things as: Beware of the Man who…, 3 Words He Can't Resist and much more.
This report is for you whether you're …
a woman whose man has lost interest in you — or has left you — and you can't figure out why
a woman who presently has a good relationship with a man — and you don't want to make mistakes that could make him want to leave you; or
a woman who has girlfriends that keep getting dumped by men for no apparent reason — and you want to help them become aware of the mistakes they are making
… you must read this FREE report now. What you don't know could ruin your present and future relationships. You'll never look at your relationships — and your behavior in relationships — the same way again after you read this report.
This is being offered for a limited time only — so don't delay. Simply fill in your name and e-mail address in the form below — and this valuable report will be sent to your e-mail box automatically within minutes!